A Mural for Mayne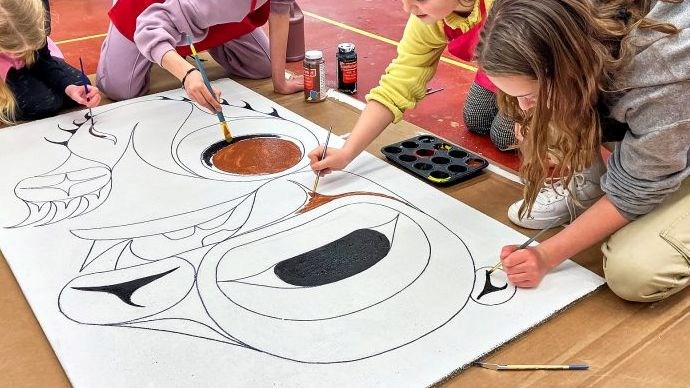 Spotlight 64
A Mural for Mayne Island School – Bringing the Enhancement Agreement to Life
As part of the journey towards Truth and Reconciliation, Mayne Island Elementary has undertaken a mural project to celebrate local Indigenous peoples and culture and beautify the school.
With generous funding from the Mayne Arts Council and donations from the Mayne Island Building Centre, students and staff have begun work on the mural alongside district Indigenous artist and culture advisor Quentin Harris. The project embraces a multidisciplinary approach to learning, providing students the opportunity to explore the symbolism of animal imagery captured in School District 64's Enhancement Agreement: bear, beaver, hummingbird, raven, orca, eagle, wolf, and salmon. Each animal will be painted on a cement board and eventually adorn an exterior wall that students can appreciate while looking out from the school library.
Through this shared experience and exploration, students will grow their understanding of Belonging, Culture, Community, and Success. Alongside their peers, students are empowered to foster a school culture that holds these four goals at the forefront of their educational experience. The students will connect their learning experiences to the Curricular Competencies and share their understanding with their classmates.
The mural project will make visible Mayne Island School's continued appreciation and gratitude of the privilege to work, learn, grow, and play on the shared, traditional, unceded territories of the Coast Salish Peoples. This project strives to recognize and honours the Hul'qumi'num and SENĆOŦEN speaking peoples who continue to use and steward these lands. The mural will also serve as a reminder of the importance of Truth and Reconciliation in our school and our community.